I don't really know where to start with this post. I feel like I have so many things I need to get off my chest that all of them come out of my head at once. Ever had that happen? Yeah, it makes it hard to type about! :) Since we are NTNP this month, I will shell out a bit of happiness to you!
For Christmas I got a super amazingly awesome stand mixer from my in-laws. I am so excited about this gift I feel like I want to use it EVERY DAY! :) Here it is in all it's glory:
A Christmas Story
. I am so in love! Here is a picture of some goodies I have made with it: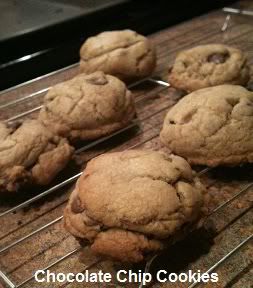 Delicious? Yes!!!!! We used it to make our manicotti cheese mixture tonight as well as a loaf of beer bread. They were both delicious to say the least. Absolutely AMAZING!
My husband had a wonderful Christmas as well. My mom and sister pitched in an got him a remote controlled helicopter. He is so excited about this although he wanted a remote control car instead, he is completely in love with this little gadget. He has played with it every day since he got it. The only down side is that you can only use it for about 15 minutes before it runs out of juice. Here he is with his amazingly fun gift(which is much more awesome than any video game!):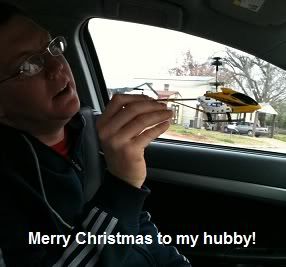 I can't imagine what it will be like if we have a little boy. My husband is such a kid at heart that he will probably steal all of our baby boy's toys. I always thought I'd have boys only. Time will tell....

In other ramblings, I am feeling really blessed lately. I have a super amazing husband who cares about me with every inch of his heart. We have been spending lots of time together since he has been on leave and I have been on Christmas break from work. Recently he has been very romantic and cuddly, which I completely adore. There is nothing like your husband wanting nothing to do but to cuddle with you, give you lots of hugs and kisses, and just be with you. I am so in love with this man that words can't describe how huge he makes my heart. God really blessed me with an AMAZING human being to spend the rest of my life with and I am forever thankful. Here is a photo of us at my Oma and Opa's house on Christmas Day: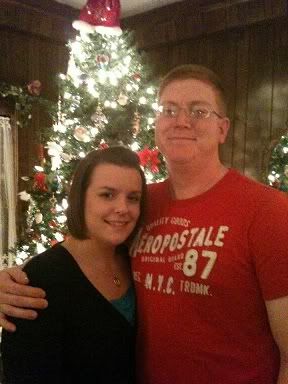 Since NTNP, I have had this amazing sense of feeling free. Feeling like infertility will not beat us and we will eventually get our own precious miracle. I feel like throwing away my thermometer and all pee sticks and just saying screw it, it will happen when it is meant to happen. If I can get pregnant through IUI, then why can't I get pregnant naturally. There is nothing stating that I can't, unless it just has everything to do with my CM, which I am pretty positive that is what is preventing us from getting pregnant naturally. But, my infertile mind says, "You need a baby now!" We will be doing our IUI #2 next month. AF should arrive on approx. January 15/16th. and I have thought ahead about IUI #2 and God willing it gives us our take home baby, we will get a BFP right before/on Valentines Day. Wouldn't that be spectacular? And the good thing if it turns out BFN, AF should be here after Valentines Day so hubby and I can just enjoy an amazing evening together, if you know what I mean? Haha!! I have so many mixed emotions for this next IUI. I am scared to death of it turning out BFN. For Christmas my mom is contributing $100 to the procedure and my dad in NY sent $125 in which we will use for the procedure as all. I have been so worried about how we will pay for another IUI if the second one doesn't work. I honestly don't want to spend all of our savings on infertility, but I so much would like to finally have a little miracle to hold. I think if IUI number two dosn't work out, we will probably take a break for financial reasons, unless hubby decides that our income taxes could be used for IUI #3? I just don't want to have to go through the wrath of another BFN. It totally sucks. But God keeps me sturdy and I know he will provide us with everything we need, even if it is just strength to get through another failed cycle. Our dreams will come true, and I WILL hold our baby in our arms and sing GLORY TO GOD because he will be the reason for our future children's life(lives)! I am just so excited, still, to know that it is possible for us to get pregnant. It's just so hard that we had to say goodbye so soon. No worries, it will happen, I just have to keep on truckin...

For now, here's a couple reasons for my happiness: